Tony Alleyne, the man who turned his apartment into the Star Trek Starship Voyager has gone bankrupt. He started transforming his apartment after his wife left him when he replaced the refrigerator with a 'warp coil'. The apartment is located in Hinckley, Leics, has moulded walls, touch-panel blue lighting, and a command console. He even built a life-size model of the show's transporter room with reshaped windows to look like portholes and set up vertical lights to give the illusion of being beamed up. Tony at one time had the apartment for auction on eBay for $2 million but had no luck in selling. Tony maxed out 14 credit cards accumulating £100,000 in debt. His goal was to lure other Trekkies to pay him to convert their humble abodes.


Here's what Tony has to say on his grand plan:
But I was wrong and just overstretched. Building it in my apartment was the enjoyable and easy bit. But then I got hooked up with marketing and merchandise people here and in America and it all got out of hand.

I'm still proud of what I created but it's been a financial disaster.

At least with all that credit card use, he probably earned a trip to space with all the accumulated airmiles.
UPDATE: Here is Tony's Official Website: 24th Century Interior Design
Update #2:Here is a video of the place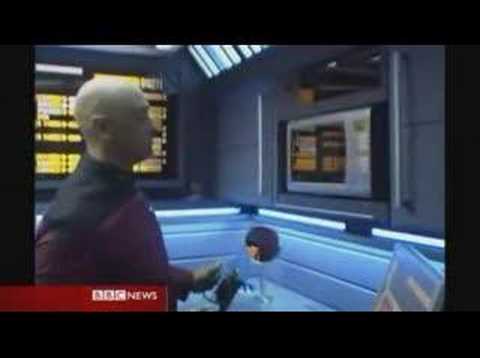 For an eclectic mix of uber-cool gadgetry and wired madness.
Subscribe to our RSS feed.
[via Ananova]
Before you go, check out these stories
filed under crazy