Check out the latest list, Coolest Toys 2012

Here are the 12 absolute coolest toys around, guaranteed to bring a smile to all kids big and small because deep down inside, all you really want for Xmas is cool toys.
If you're still looking for cool toys, Here is a list of the other coolest toys of the year:
Little Tikes Super Splash Waterpark
If you ever dreamed of turning your back yard into a water park, Little Tikes can make it happen. The Little Tikes Deluxe Water Park has a slide with sprinkler, two water cannons, two tunnels , an obstacle course and a turtle-shaped lounge to chill out in style.
Step2 Extreme Coaster

"Thrill-seeking children, rejoice!" Step2 Extreme Coaster can turn any yard or basement into a one ride amusement park. Bike helmet not included but strongly recommend. Video of Step 2 Extreme Coaster here
Price:$250
LEGO Creator Monster Dino
Introducing an advanced new Power Functions System designed to bring Creator sets to life via the integration of two interchangeable motors, the Monster Dino can walk and roar at the touch of a button. Controlled by an independent hand-unit, Monster Dino can move forwards, backwards and emit a bloodcurdling roar with fully mechanized joints making it terrifyingly realistic.The unique LEGO Creator concept challenges builders aged 9+ to combine and create each kit into three different build options. In this case, Monster Dino can be re-assembled to introduce two alternative predators – a tail-whipping crocodile and scuttling deadly spider each powered by remote control.
Video of LEGO Creator Monster Dino in action
[via Coolest Gadgets]
iCoaster

The Magnetix I-Coaster looks like barrels of fun. What can be more fun than sending stainless steel ball bearings racing around a track while listening to your favorite MP3s. It also has a sound effects mode which allows it to emit certain sounds as the ball passes certain points. You can plug your MP3 player of choice into it if you prefer music to sound effects. Video of iCoaster here.
[via Neatorama]
Brian the Brain
This animatronic brain incorporates The Concise encyclopedia from Britannica, a dictionary, and a world history timeline, and uses voice recognition technology to respond to verbal prompts, for an interactive roommate that children can use as an academic resource or as a toy. Not only an academic aide, Brian the Brain asks questions concerning the child's likes and dislikes, using the child's responses to personalize conversations and to tell jokes. Brian's database can store telephone numbers and the device connects to a phone jack, allowing Brian to become a child's personal operator that dials the phone numbers of friends and family in response to verbal commands, or children can use the attached keyboard to prompt Brian to initiate a p hone call. Brian the Brain plays word, memory, and trivia games, and he can say thousands of trivia facts. With digital clock, calendar, MP3 player jack, integrated speaker, and retractable keyboard for text communication with Brian the Brain.
Video of Brian the Brain available here.
[via Gizmodo – Shiny Shiny]
Air Hogs Havoc Heli Laser Battle
The Air Hogs Havoc Heli Laser Battling set allows you to have laser air battles with your friends. To shoot them down from the sky , just fly into position, fire from your controller and your opponent goes into a tailspin . The Havoc Heli Battling set comes with 2 helicopters and 2 controllers. Video of Air Hogs Havoc Heli Laser Battling set in action.
[via Coolest Gadgets]
Electric Plane Launcher

What makes the Electric Paper Airplane Launcher cool? It gives you the ability to shoot paper planes out at 31 MPH (50 km/h) and that my friends is freaking cool.
Price: $15
[via Nerd Approved]
Smart Cycle
Exercise may seem overrated to a majority of children today, but if parents can get kids to exercise, have fun and for an added bonus, learn along the way, both parties will end up happy. Fisher Price seems to accomplish all these things with the Smart Cycle. The Plug & Play device gets the child to pedal to play while reinforcing important preschool concepts like letters, numbers, shapes and colors. Think of it as spinning with pop quizzes.
Just because it's raining, snowing or otherwise blustery outside, that doesn't mean that your child can't get the exercise she needs. The Fisher Price Smart Cycle combines the fun indoor activity of video game playing with the physical activity the great outdoors will give you. Designed for kids ages three to six, the Smart Cycle "physical learning arcade system" is an all-in-one stationary bike, video game console, and educational tool. Your little one will exercise her brain and her body — and have loads of fun in the process.
Video of the Smart Cycle in action here.
Price: $110
[via Digital Drops]
RipRoar – Creation Station
RipRoar – Creation Station gives you the power to create, share, and star in your own videos. Use the included Green Screen to change the background, replacing it with any image or video that you wish. With the included editing software manipulate extra objects add sound f/x, and music. When you are done with your Oscar winning performance, upload to YouTube with one click or burn yourself a DVD. Watch the RipRoar commercial here.
[via Popgadget]
Transformers MP3
Transformers was a big hit on the silver screen and an even bigger hit with toy collectors. I had a hard time picking just one transformer toy, but I'm giving the honor to the Transformers Music Label SoundWave MP3 Player edging out the close second, Darth Vader Transformer. The Transformers Music Label SoundWave MP3 Player is an action figure and a one-of-a-kind MP3 player. Soundwave's cassette door opens to reveal a Mini SD card reader (Mini SD card is not included). "Soundwave is available in two colors, the more traditional blue color scheme and also an all white color scheme in honor of the iPod". Extensive video (aka. LONG) review of Transformers MP3 here.
[via GeekAlerts]
Real-Time R/C Spycopter
Just imagine the possibilities. Take aerial video footage with an on-board spy camera as you maneuver this helicopter with its handheld remote. Video images display on the transmitter's 2″ LCD screen.
Price: $200
[via OhGizmo! and Geek Alerts]
Jakks Eyeclops Bionic Eye
Much more fun than a microscope, the EyeClops transforms any television into an interactive TV toy. With the EyeClops, the ordinary becomes extraordinary. Magnified to 200 times the normal size and viewed on any TV screen, minuscule salt crystals morph into blocks of ice; hair and carpet turn into giant noodles; and small insects become fearsome creatures. The Bionic Eye has three built-in LED lights so kids can illuminate any object, including their own skin.
Video of Eyeclops in action here.
Price:$40
[via Gizmodo]
If you're still looking for cool toys, check out last year's list, the top 11 coolest toys on the planet.
Let us know in the comments below if you know of any toy that is worthy of making this year's list or if you feel any of the toys listed should not of made the cut.
Update:
One toy that did not make the list last year and this year was the Hydroflyer. We featured it here before. Just click play on the video, sit back and be prepared to be amazed.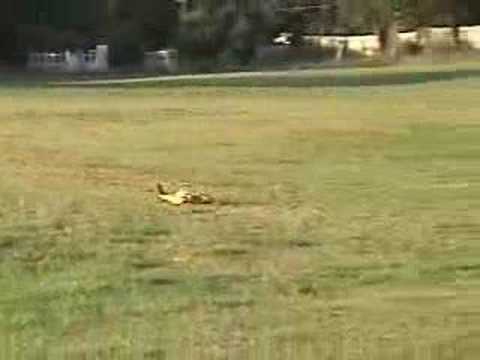 Price: $250, a cheaper similar version is available at Amazon for $50
If You Enjoyed This Collection Of Toys, Check Out These Lists