In celebration of Earth Day, here is a collection of some wonderful, crazy and strange solar powered devices. From solar powered bikinis to solar powered wheelchairs, they all accomplish one thing, making Earth a little more green. Happy Earth Day.
Solar Powered USB Bikini
This itsy-bitsy, teeny-weeny photo-voltaic bikini has enough produces a total of 5 volts of charge, enough to keep your iPod shuffle running for a day at the beach [via Gizmodo]
Solar Robot Snow Surfing
A solar-powered robot tows this snowboard which was designed by Thayer School of Engineering researchers at Dartmouth College. The "scalable, sloar-powered, science platforms" ought to perform well in the endless daylight of Antarctic summer as scientists and their laptops are towed over the ice at a sedate 5 mph. [Zedomax via The Raw Feed]
Solar Powered Roller Blading Chariot
Bob Schneeveis, the inventor of the Solar Powered Walking Chariot spends his time designing environmentally sustainable solar-electric vehicles and gadgets; he is also known to tinker very successfully with robotics as is evidenced by this solar-powered rollerblading chariot.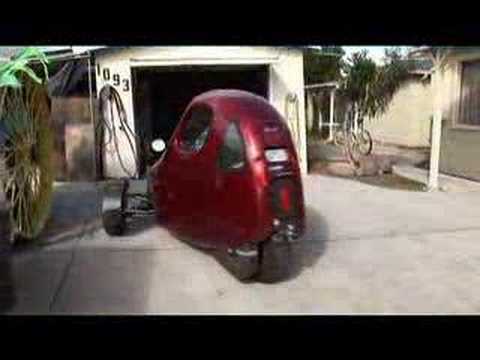 [via Hacked Gadgets]
Solar Powered, Air Conditioned Tent
The next time you head out to brave the fierce desert heat of Burning Man, you might want to take a New Sun Tent. The green credentials of this tent are impeccable, it powers an evaporative cooler with a solar array on the roof. The longterm plan for the tent that it will be designed to fold up into a trailer that can be towed by mountain bike, using solar-powered motors to provide the rider with a useful boost. Check out the Treehugger link below for a more complete set of pictures.
Price: About $5000 [Treehugger via UberGizmo]
Solar-powered Wheelchair
Electric wheelchairs are quite earth-friendly as is, however there is a compelling reason for fitting a solar panel to the roof; it can add some extra range and an emergency power reserve. The solar panel can also fend off light rain and provide a nice bit of shade. The solar powered wheelchair was designed by a team from the Southern Taiwan University of Technology. [via DVICE]
Solar-Electric Powered Car DIY Kit

The SUNN Solar Electric Car Kit draws power from lead acid batteries that can be charged through an electrical outlet or using the optional solar panels. The top speed is 25 mph, the range is 37 miles (on a sunny day, if you have both solar panels installed) and it is street legal for many of the roads around the country. [more Solar Electric Powered Car DIY Kit info]
Solar-Powered Cooling Pith Helmet

The Solar-Powered Cooling hat provides a little air-conditioning for your noggin; As long as you don't mind people laughing heartily at your expense. If you have enough self esteem to pull this off, you will be pleased to know that it works day or night thanks to the battery backup power supply. Price:$49.95
Solar hearing aid
The SolarAid solar-powered hearing aid has two things going for it: it is solar-powered and at under $100 it is incredibly cheap. That amount might stretch the resources of people in Botswana where it was originally created by Godisa Technologies, but it is a lot less than conventional battery-powered alternatives. The other benefit of a solar-powered hearing aid is that it can be used where hearing aid batteries are not readily accessible; environmentally-friendly with a humanitarian edge. The solar batteries need to be recharged every four to six days. [via Ubergizmo]
Automower Solar Hybrid
The Husqvarna Automower Solar Hybrid ought to slice your gardening bills to a fraction of their cost, if you actually have a garden. This gardening robot will travel around your garden powered by the suns rays, cutting grass almost as quickly as it grows and at a price of approximately $4000 it would want to.
Solar-Powered Talking Bible
If you want to get your religion on but can't or don't want to read, why not pick up a solar-powered talking bible. A lanyard allows you to carry your sensibly green religious device around as you go about your daily routine. At the push of a button you can hear both the old and new testaments; or you can skip to a specific verse if you are so inclined. [via Book of Joe]
Solar Powered Dehumidifier
A ventilator and dehumidifier require gives you all of the benefits of a humidifier and ventilator without the carbon footprint. The designer of the SolarVenti offers this explanation:
After a cold night all of the atmospheric moisture is lying on the ground as dew or frost leaving a very dry but cold atmosphere. SolarVenti takes in this cold dry air and warms it before pumping it into your house where it sucks out moisture from the fabric of your property and replaces the colder damper atmosphere.
If you live in countries that are prone to high humidity in summer, a dehumidifier can help ease the conditions just enough that you don't have to fall back on an air-conditioner. At around $650 the price might make some people think twice, but considering the running cost, it is probably a good deal. [via Treehugger]
Solar Powered NES/Gameboy Emulator
Not only can this 2GB MP4 player uses its two solar panels for charging its built-in Li-ion batteries or other devices through a USB out, it will also emulate NES, Gameboy and Gameboy Color. You can recharge either 4.5V, 5V, 6.3V or 9V, listen to music watch movies or enjoy a great game of Tetris with this versatile little solar-powered gem. [via Geekologie]
Solar powered bike
The Solartrike boasts a 10-mile range on a single charge and will take you to your destination at the breakneck speed of 15-18mph, not bad if you have a short commute. Options include eiter a 200W or 400W motor. You also get an 80W solar panel mounted on a 2×2 steel frame.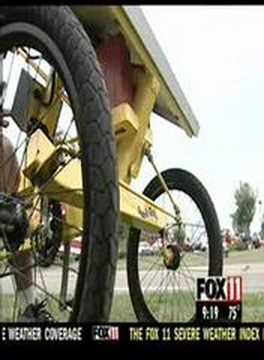 via TechEBlog