Check out the latest list, Coolest Toys 2012
As we do every year, we proudly present you the coolest toys on the planet 2010. These toys are meant for kids but they entertain and amuse all kids big and small for hours. If you're still looking for cool toys, Here is a list of the other coolest toys of the year:
Nerf N-Strike Stampede ECS

The new generation of Nerf guns just keep on getting better and the Nerf N-Strike Stampede ECS easily wins as the coolest Nerf gun on the planet. It can fire off 3 Nerf darts per second.
The fully automated Nerf N-Strike Stampede ECS has the ability to launch an astounding three darts per second. Your child can either squeeze the trigger once to let a single dart fly, or hold the trigger down and have the Stampede launch Nerf darts in rapid-fire succession. With three extended 18-dart clips, a quick-reload 6-dart clip, and 60 Clip System darts, the Stampede is ready to reload and keep the foam flying.
Fisher-Price Imaginext BIGFOOT the Monster

Who would not want their very own remote controlled Bigfoot Monster that burps and laughs when you tickle him!
With the wireless remote control, your kids will have Big Foot walking, rolling forward and backward, exercising, sleeping, expressing anger (he's hungry!) or joy (you're his buddy!). Your kids can even place the red ball in his right hand and use the remote to have him toss it. This charming monster will also perform random acts via the remote's wild card button.

With a bank of over 30 phrases, words, and funny noises, Big Foot will amuse your kids with his personality. Not limited by functions on the remote, your kids can interact directly with him by touching his jaw to make him chomp and burp or his belly to tickle him and make him laugh.

You and your children will enjoy hanging out with Big Foot on carpeted surfaces with ample space. He'll move great on hard floors, but his tumbling and rolling can be loud against such surfaces.
Spy Video TRAKR

Spying on your family just got easier.
We have fond memories of the things we learned to do with our parents. Sitting by the glow of our first family computer, learning how to program in BASIC. We were never so excited as when we saw the computer say, "Hello, world!" and we knew that WE DID THAT. Then we surpassed our GeekDad in programming skillz. Oops. The good news is that he's really happy that we can afford to buy him awesome Christmas presents now.

The Spy Video TRAKR is the world's first programmable video RC toy. Yes, programmable. Want to teach your geekling some C in a way that engages and excites them? Write apps for the Spy Video TRAKR together! Out of the box, the TRAKR can see in the dark, map out select paths, and have the vision of a robotic spy. If you visit spytrakr.com, you can load up on free apps, or upload your own apps to share with fellow agents. You can even "look under the hood" of the applications to see how they work. If there's a budding programmer on your list, the Spy Video TRAKR will make them squee. We guarantee it.
Phoenix Roller Coaster

What makes the Phoenix Roller Coaster special is that you can hook it up to the computer and view the roller coaster ride from any seat. It even gives you a real-time readout of G-forces and acceleration that your dolls Star wars figures will feel during the ride.
Roller coaster fans will go crazy for the Phoenix Roller Coaster. This kit contains everything you need to build your own fully operational roller coaster which measures over four feet long. The modular design and molded track pieces make assembly easy; it's a big project, but it won't take you all day to achieve coaster nirvana. The highly detailed train car comes pre-assembled and even has shoulder restraints that raise and lower at the operation station to load your invisible passengers. Pop the included software into your PC and you can even "ride" your roller coaster, seeing the view from any seat and getting a real-time readout of G-forces and acceleration.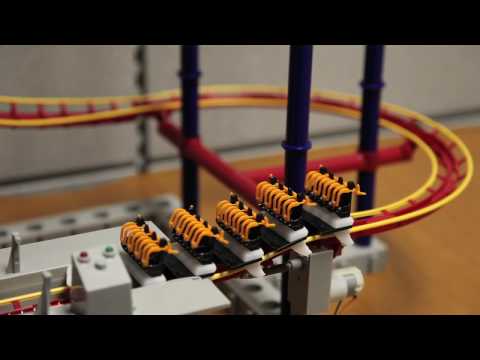 Gumball Foosball

I can tell you 2 things about the Gumball Foosball table that will not come as a surprise, It's not cheap and it's not dentist approved. If you can over look those 2 small details you have my favorite toy on this list.
This is the only foosball game that is played with chewable gumballs. Gumball machines atop each goal send the bubblegum onto the pitch, allowing players to engage in rapid table soccer with tasty confection. After each goal, the gumball is dispensed from the side of the table as a reward for the goal scorer's superior foosball skills. Eight solid-metal, chromed control rods glide easily in their slots, allowing fluid movement and fast wrist-action for traditional foosball shots including pull, push, and rollovers. Solidly constructed with a sturdy steel frame and a durable laminated playing surface, the foosball table will endure years of party tournaments and impromptu one-on-one play. The table has a shatterproof, tempered glass cover that keeps the gumball in play and playing surface clean. Includes 1,700 multi-flavored gumballs.
Remote Controlled Millennium Falcon

The Remote Controlled Millennium Falcon will bring a big smile to any Star Wars fan face, big or small.
Spanning almost a foot from stem to stern, this is the only remote controlled Millennium Falcon from the classic Star Wars series. Two counter-rotating rotors built into the hull provide vertical movement that evokes the nimble hovering of the iconic spaceship as it prepared for interstellar flights, operating like a helicopter. The craft can move forward, backward and sideways, controlled from up to 30′ with the three-channel remote. Trim controls on the remote enables precise rotor tuning for stable, level flights. The Falcon plugs into the remote for a 20-minute charge which provides five-minute flights to a galaxy far, far away.
The Water Shooting Remote Controlled Car
This is the remote controlled 1:14 scale SUV with a built-in water gun that splashes targets up to 15′ away. Front and rear suspension supports knobby, pneumatic tires that overcome difficult terrain to reach targets during unconventional water gun battles. The included three-channel remote control's two speed settings and turbo boost enable agile pursuit of targets up to its top speed of 11 mph. The SUV's water cannon draws from a 8 1/2-oz. reservoir contained under the vehicle's hood. Its rechargeable battery provides up to 40 minutes of playing time from a 1 1/2-hour charge. With front and rear xenon lights for nighttime play.
V Tech 3-in-1 Musical Band

Any toy that can combine 3 things into one and pulls it off with style has my vote. Kids love making music and the V Tech 3-in-1 Musical Band brings 3 great instruments ( piano, drum and guitar) into 1. It will entertain your child for hours.
Create your own protege in training with VTech's new 3-in-1 Musical Band! This toy acts as three instruments and a music recorder, guaranteed to keep the whole family rockin'! With the 3-in-1 Musical Band, your kid can be a one-man band. There are three different ways to play – a piano, drum and guitar. When playing the piano, a sensor detects the child's hand motions and creates cool drum effects. With build-in songs, three musical styles and the ability to record songs, this musical instrument will provide hours of jamming fun.
Hot Wheels R/C Stealth Rides Racing Car
The foldable Hot Wheels RC is less than 3 inches long and folds for storage in the combination transmitter/car holder. Kids will love taking this portable and foldable car to friends' houses for high-energy racing.
The innovative foldable design of this RC racing car is the first of its kind. Kids will love carrying this pocket-sized car around, and you'll appreciate how simple it is to store and maintain.

This red racer with sporty orange detailing features a transformation button on the rear window. When the button is pushed, the vehicle's sides fold down, allowing you to slip the car into the slim carrying compartment which doubles as the transmitter.

While you're removing the car from the case press the transformation button and this speedy racer will spring back into shape. The transmitter's two buttons allow for intuitive, multi-directional movement.
Air Hogs Hawk Eye

Almost every year we created the list of coolest toys there has been an Airhog on the list. This year the Air Hogs Hawk Eye continues the tradition. The Hawk Eye is a cool looking chopper with one big special feature, a camera with full recording functionality!
[poll id="5″]