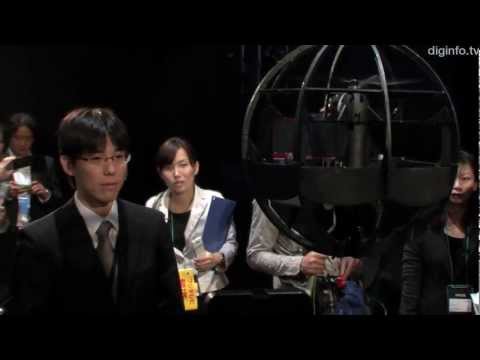 It was an iPhone 4s moment, where everyone at first is stunned, then disappointed, then later everyone feels silly for having felt disappointed over something that's never been done before, and all that because it simply runs with a propeller.
Sure, it looks eerily like the light saber practice drone in Star Wars, and I suppose everyone there might have been disappointed for not having been shot with a tiny laser, and I must point out that I would've shown up with a tennis racket instead of a light saber. Although admittedly Darth Vader would have had a good laugh, seeing Luke bring a tennis racket to a light saber fight and all…   But I digress.
All that to say that the Japanese Ministry of Defense have developed a flying, spherical drone, that can roll on the ground, fly against walls, track objects with a camera and keep flying even if it's hit with an object like a ball or slapped with a hand.
In other words, they've made a real life, round, black version of the Lakita Bros in Super Mario 64.