Samsung S3
"What could be better than an iPhone?" My friend asked me a few weeks ago when I told him I wanted a Samsung galaxy S3 rather than the iconic Apple phone.
"Actually…" I began responding, then almost immediately I realized I would not be able to convert an Apple maniac like him, to something as dreary as an Android phone. However, after seeing the S3 in action I decided to attempt the impossible: Convert an iPhone user to Android.
Ok. You've likely noticed by now that I'm not talking about just ANY Android phone, the Samsung Galaxy SIII is deemed as the ultimate in Android phones and with reason.
Initial contact and display
My initial contact with the phone was bittersweet. On the one hand the screen is formidable. Crisp, full of contrast, overtones and colors mix in a pittoresque 'tableau' worthy of a Rembrandt or a Monet.
On the other hand, the touchscreen's responsiveness is in the realm of the incredible, typing on the keyboard requires nary a touch, a light whisper, a hair. There is no actual need to press on the screen, a gentle touch is enough which begs the question, is it TOO responsive?
Nah…no such thing.
The animations are smooth and the crispness displayed by, well, hum, the display, is phenomenal. No ghosting whatsoever is visible.
Watching a YouTube video on it, even on an LTE connection is better than watching a local video stored on a computer and streamed to a normal mid-range television. I still totally missed the point of most of the Smosh guys monkeying around only this time, I did it in glorious 1080p, or more… could it be 1090p? I asked myself…
No. The screen resolution is 720×1280 which makes it 720p. However the pixel density, at 306ppi for a 4.8″ screen is close to the so called "Retina" display on the iPhone. Only bigger.
Feel
It's important, when using a phone, that we learn to feel it. This is essential in the art of not dropping and breaking it.
The SIII is no exception. I'm sad to report that it's main drawback for me is the lightweight feel that the unit has. Let me attempt an explanation, when you go out to a fancy restaurant, and they serve you some elaborately prepared chicken, the fact remains that it's still chicken.
Samsung state that the phone's body, at least the back panel or battery cover, is made of polycarbonate which is just a fancy way of saying it's plastic. Still, it feels like plastic and frankly, each time I remove the back panel I'm worried it might break in half.
The same applies to the glass. The specs call this glass "Gorilla Glass 2″ which is 20% thinner but just as strong as Gorilla Glass and that's fine with me but it just feels too light. Maybe I'm just used to heavy being equal to solid and hopefully I'll turn out to be wrong. I suppose that time will tell…
I'm known to drop my phone at least once in a while.
Don't get me wrong, the phone does not feel cheap like an inexpensive Chinese knockoff phone might, the buttons are razor sharp and the phone feels solid. It's just weird that it's made of incredibly thin plastic.
Performance
I was slightly weary of this because I had read somewhere that in North America, we are getting a "crippled" version of the phone. A version that unlike its European counterpart, does not have 4 cores of goodness clocked at 1.4Ghz, but instead comes with 2 sweet cores of Snapdragon goodness clocked at 1.5Ghz.
The perk though is that the North American version has LTE and a discrete GPU off the CPU, but how's the performance?
This is where the phone truly shines. The ease with which it performs all the tasks you request of it is incredible. Want to be "briefed" in the morning instead of having a normal alarm? Sure. The phone can be configured to do that with mindblowing ease so that before you know it, it's tomorrow morning and the phone is gently waking you to the sound of a walk in the woods as a subtle narrative voice talks you through your day's schedule, the weather and whatever news you prefer.
Want to browse the Interweb? No problem, the stock Ice Cream Sandwich build allows you to download the Chrome browser and synchronize your bookmarks, history, passwords, etc.
Are you in for a video game or two? I've never seen Angry Birds look so menacing as on the SIII and it supports all the good SNES and Genesis emulators. Heck I even managed to run Montezuma's Revenge from a ColecoVision emulator on it.
The other difference between the American and Euro versions is that the Euro SIII comes with 1Gb or RAM whereas the US/Canadian version comes with 2Gb, and it shows.
Data performance
In a word: Mental. The LTE bandwidth tests I've performed on the unit are slightly faster than what I can get at home on my N class Wi-Fi even on a 30Mbit cable connection. I've tested at 18.7Mbit downstream and 10.2Mbit upstream on LTE. The GPS, when solicited, kicks in immediately without the usual waiting time, and the maps load with ease and speed. Websites are near instantaneous, probably a result of both the compression used for mobile sites and the extreme bandwidth speeds achieved by the LTE transfer protocol.  So yeah, it's quick. It's VERY quick.
Vocal command performance
Okay, when I say vocal what I really mean is that you can talk to this phone like you would if you were wearing a bodysuit made of spandex and velcro, and a lieutenant, or an ensign, on a 1980s rendition of Star Trek, and you were talking to a computer.
In fact…
You are! At least talking to a computer. And sadly it shows too. Although the stock S-Voice software is neat, it lacks the speed and flexibility that is offered by some other, third party voice command assistants such as "Assistant" and "Vlingo" or the more expensive "Eva" which all have much better performance, quicker response and sometimes allow for more tasks to be dictated to the phone.
The main problem is that if you begin addressing your cell phone while in public, you will pass for an ex-loony-bin inmate who has just been released and is still talking to inanimate objects. And then there's the issue of background sounds.
For instance, I have a 13 year old daughter whom I love dearly but who also has a built in detector that allows her to instantly pick up the subtle voice intonation I use when I'm trying to give the phone a vocal command. She thereby finds it irresistible to interject with a loud "Lalalalalalalalalala!" which then sends the voice recognition software on a spasmically comic Google images search for squirrels, ostriches or lavatories which incidentally, are pretty much the only place you'll be able to comfortably (and quietly) use the vocal recognition programs suitably.
They do work though and for the record, while in the lavatory I managed to quickly add an unrelated calendar event to my Google calendar and send off a quick email. Sadly none of the voice recognition apps I've tried allowed me to send Google Talk requests for a video chat.
Camera
The camera is both excellent, and weird. On the one hand you have fabulous features such as face recognition that allows the phone to automatically tag the photos you take for you, with sometimes amusing results. On the other hand though, the continuous shooting mode where you keep the shooting button pressed and it takes continuous pictures of people or stuff that is presumably in motion, sucks. Why does it suck?
The people in 19/20 photos  you'll take in this mode come out looking like they've watched The Ring's video and are condemned to die a horrible death to an eerie girl that creeps out of the television.
The 20th picture looks fine but on this one, the background is condemned…
I've thereby turned off that mode until they either fix it to make is usable in real life, or I develop some incredible picture taking skills where I can continuously move the camera in exactly the same manner as the subjects.
In normal mode the pictures are bright and crisp, the zoom is optimal and even though it's not a dedicated point and shoot camera, the quality of the photos make you wonder if you really need one.
The Google Talk video chat, although mostly deserted of users, when tested actually works spectacularily well thanks to the front facing camera and microphone.
Video is practically flawless, coming out stock at a whopping 1080p it looks fantastic when sent wirelessly to a Boxee, Asus oPlay or any other UPnP/DLNA enabled media playing device.
Battery
Incredibly, the battery is decent! I managed to go a whole day without having to charge the phone and have over 25% battery left over, beating the previous record for an Android phone by about 100%.
Actual phone
It works as a normal phone too. There's not much to add except that the voice quality is fine on both ends of the conversation. Dialing and redialing is convenient with the onscreen keyboards but there's nothing new here that's not been seen in pretty much all the other Android phones out there.
Was my friend convinced?
Yes, but sadly for him, the cruelty of the penalty that his cell phone carrier would bestow on him for breaking his current iPhone contract to purchase another cell phone, is worthy of the third season of Heroes.
Why you want it:
-Incredible data speed
-Phenomenal video performance
-Video games look fabulous on the 4.8″ Super AmoLED capacitive touchscreen
-Groundbreaking response from the touchscreen
-Battery is decent
-Comes stock with Ice Cream Sandwich and thereby supports Google Chrome for browsing
-Vocal commands (S Voice) are cool
Why you might not:
-Costs 750$ unless your carrier subsidizes it through an incredibly expensive monthly plan over a scandalous length of time spanning several decades and with penalties ranging from toenail extraction to being forced to watch this video in its entirety: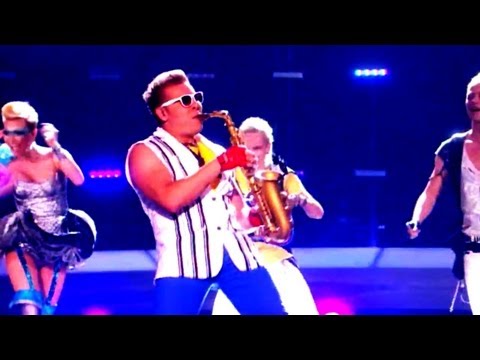 -Plastic body incorrectly feels like it's constantly about to break
-Vocal commands (S Voice) are raising your blood pressure and destroying your liver and kidneys
Score
8/10